BBQ Chicken Wings small
€9.

00

BBQ Chicken Wings large
€13.

00

Homemade Sausage with mustard and horseradish, served with bread
€9.

00

Brie cheese with Cranberry sauce and walnuts
€9.

00
Cabbage soup with homemade sausage and smoked meat
€7.

50

Vegetarian soup of the day
€4.

90
Club sandwich (chicken breast, bacon, salad, tomato,fried egg & side of chips)
€14.

00
Caesar Salad
€11.

00

Chicken Caesar Salad
€14.

50
Pilsner Goulash with homemade dumplings
€18.

00

Beef in veg cream sauce with homemade dumplings
€18.

00

Chicken schnitzel (comes with one side of your choice)
€15.

00

Pork schnitzel (comes with one side of your choice)
€15.

00

Deep fried cheese with tartar sauce & one side of your choice
€15.

00

Sheep cheese dumplings
€17.

00

Fish & Chips (Fresh fried Cod with chips, homemade tartar sauce & peapuree)
€18.

00

Bangers & Mash
€17.

00

Pork Hock (needs to be preordered)
€19.

90
Beef burger (comes with one extra side of your choice)
€17.

00

Chicken burger (comes with one extra side of your choice)
€15.

00
Marlenka cake with freshly whipped cream
€8.

00

Apple Strudel with vanilla ice cream and freshly whipped cream
€8.

00

Scoop of Ice Cream
€2.

50
Chips
€4.

00

Mashed Potatoes
€4.

00

Potato Salad
€4.

50

Side Salad
€4.

00

Dumplings
€4.

00

Bread
€2.

50

Extra Sauce
€1.

50

Extra Cheese or Bacon
€1.

50

Peanuts
€2.

00

Pringles
€2.

50

Slovakia Chips
€3.

50

Breadsticks
€3.

50
Chicken strips with chips or mash
€8.

00

Fish & Chips (optional mash)
€9.

00

Beef Burger with Chips
€8.

50
Pilsner Urquell
0.5
€7.

00

0.3
€3.

90

Staropramen
0.5
€6.

60

0.3
€3.

90

Guinness
pint
€5.

90

glass
€3.

50

Smithwicks Red
pint
€6.

00

glass
€3.

50

Hop House 13
pint
€6.

50

glass
€3.

90

Rockshore lager
pint
€6.

50

glass
€3.

90

Rockshore cider
pint
€6.

50

glass
€3.

90

Budweiser
pint
€6.

50

glass
€3.

90

Peroni
pint
€7.

00

glass
€3.

90

Bulmers
pint
€6.

50

glass
€3.

90

San Miguel
pint
€6.

60

glass
€3.

90

Chieftain IPA
pint
€7.

50

glass
€4.

40
Heineken
€5.

20

Budweiser
€5.

00

Coors Light
€5.

00

Radler
€5.

00

Corona
€5.

50

Blue Moon
€5.

50

Budvar original
€6.

60

Kozel dark
€6.

00

Erdinger
€7.

00

Franziskaner
€6.

50

Tyskie
€6.

50

Desperados
€6.

00

Crabbies Ginger
€6.

50

Fentimans Ginger Beer
€6.

30

Moretti
€5.

20

Smithwick's Green
€6.

50

WKD Blue
€5.

50

Smirnoff Ice
€5.

50
Brewdog Punk
€6.

00

O'Hara's
€8.

00

Galway Hooker
€7.

00

Lagunitas
€6.

50
N/A Heineken 0.0%
€4.

40

N/A Erdinger 0.0%
€4.

90
Bulmers pint
€7.

20

Kopparberg SL
€7.

30

Kopparberg MF
€7.

30

Orchard Thieves long neck
€5.

50
Jameson
€5.

50

Paddy
€5.

50

Powers
€5.

50

Bushmills
€5.

50

Tullamore Dew
€5.

50

Jameson Crested
€5.

80

Jameson Black Barrel
€8.

00

Jameson Distillers
€8.

90

Jameson Blenders
€8.

90

Jameson Coopers
€8.

90

Jameson 12y
€99.

90

Bushmills 10y
€7.

50

Bushmills 21y
€16.

50

Blask Bush
€5.

80

Teeling Small Batch
€6.

50

Proper Twelve
€6.

60

Red Spot 15y
€19.

00

Green Spot 6y
€9.

00

Yellow Spot 12y
€12.

00

Red Breast 12y
€10.

00

Red Breast 15y
€14.

00

Middleton Very Rare
€19.

90
Ballantines
€5.

50

Johnnie Walker Red
€6.

00

Johnnie Walker Black
€7.

50

Glenfiddich 12y
€7.

70
Jack Daniels
€5.

50

Jack Daniels Honey
€5.

50

Jack Daniels Single Barrel
€9.

50

Jim Beam
€5.

50
Cpt. Morgan
€5.

50

Bacardi
€5.

50

Malibu
€5.

50

Havana 3y
€5.

30

Mount Gay
€5.

90

Havana Especial
€7.

20

Angostura Silver
€5.

50

Kraken
€7.

20

Diplomatico
€8.

80
Smirnoff
€5.

50

Absolut
€5.

50

Ketel One
€6.

50

Grey Goose
€8.

80

Tito's
€6.

50

Dingle
€6.

50

Soplica
€5.

00
Gordon's
€5.

50

Beefeater
€5.

50

Kopparberg Pink
€5.

80

Bombay Sapphire
€5.

50

Tanqueray
€5.

50

Dingle
€6.

30

Hendrick's
€6.

90

Gunpowder
€7.

00

Brooklyn
€7.

30

Monkey 47
€9.

00
Pachuca Silver
€5.

00

Pachuca Gold
€5.

00

Olmeca Blanco
€5.

50

Olmeca Reposado
€5.

50

Patron Anejo
€8.

50

Patron Café
€7.

50
Becherovka
€5.

50

Borovicka
€5.

50

Fernet Original
€5.

50

Fernet Citrus
€5.

50

Tatra Tea 42%
€6.

00

Tatra Tea 52%
€6.

50

Tatra Tea 62%
€7.

50

Slivovica 52%
€6.

20

Hruskovica 52%
€6.

20
Jagermeister
€5.

50

Fireball
€5.

20

Baileys
€5.

00

Kahlua
€5.

50

Soplica
€5.

50

Sambuca
€5.

50

Peach Schnapps
€5.

00

Peppermint Green
€5.

20

Southern Comfort
€5.

20
Lorosco Reserva Sauvignon Blanc
This is a white with attitude! From Central Valley in Chile, clean, crisp and fresh, all-backed up with great structure and flavour.
glass
€6.

30

bottle
€23.

00

Statue Pinot Grigio
Award-winning Pinot Grigio made from top quality grapes grown in vineyards in Sicily, Italy. This Pinot Grigio has a delicate and fruity bouquet. Refreshing lemon flavour and hints of green apples on the finish.
glass
€6.

50

bottle
€23.

00

The Paddocks Chardonnay
Originating from South East Australia, a perfect balanced wine, with aromas of tropical fruit, particularly melon and peach, with a rounded, juicy and lingering finish on unoaked style of chardonnay.
glass
€6.

50

bottle
€23.

00

Hunters Stoneburn Sauvignon Blanc bottle
€33.

00

From New Zealand's famous Marlborough region, this is a cracking, crisp dry white packed with gooseberry fruit aromas and passion fruit flavours.
Malbec bottle
€29.

00
Lorosco Reserva Cabernet Sauvignon
A gorgeous full-bodied Red from the sunny vineyards of Chile, Lorosco Reserva Cabernet Sauvignon has intense fresh fruity aromas of blackberries and plums, with soft toasty notes and sweet vanilla.
glass
€6.

30

bottle
€23.

00

La Serre Merlot Languedoc-Roussillon
There is nothing shy about this wine, so prepare for flavours - big ones at that! This French Merlot is Young, juicy and full of soft easy-going plum and blackberry fruit.
glass
€6.

50

bottle
€23.

00

The Paddocks Shiraz
A super-ripe Shiraz from South East Australia, packed with sunny flavours of ripe blackcurrants sweet plum fruit.
glass
€6.

50

bottle
€23.

00

Paula Malbec Mendoza
Made from Argentina's most famous grape and by the country's most famous producer of Malbec, Dona Paula - This is a wonderful, heady mix of dark bramble fruits, plum and blueberry.
bottle
€26.

00

Ramon Bilbao Rioja Spain
This Rioja wine has received good scores from various critics, Bright, deep, cherry-red. Intense aromas, intensely flavoured with Tempranillo blackberry fruity character enriched by the oak barrels' vanilla spice and supported by firm tannins.
bottle
€33.

00
Rose
glass
€ 6.

50

bottle
€ 24.

00
Prosecco Snipe
€8.

50

Prosecco bottle
€29.

00
Sex on the beach
€11.

90

Cuba Libre
€10.

90

Long Island iced tea
€14.

50

Aperol Spritz
€11.

50

Blue Lagoon
€12.

90

Black Russian
€9.

90

White Russian
€9.

90

Tequila Sunrise
€10.

90

Espresso Martini
€13.

90

Hugo
€11.

50
Coke
€3.

00

Diet Coke
€3.

00

Coke Zero
€3.

00

7UP
€3.

00

Fanta
€3.

00

Fanta Lemon
€3.

00

Still Water
€3.

00

Sparkling Water
€3.

00

Kofola 0.3l
€2.

80

Kofola 0.5l
€3.

60

Vinea 0.3l
€2.

80

Vinea 0.5l
€3.

60

Tonic
€2.

00

Tonic slimline
€2.

00

Soda Water
€2.

00

Ginger Ale
€2.

00

White Lemonade
€2.

00

Juice Orange
€3.

00

Juice Apple
€3.

00

Red Bull
€3.

90

Red Bull SF
€3.

90

Acqua Panna large
€4.

90
Espresso
€2.

20

Double Espresso
€3.

50

Americano
€2.

90

Latte
€3.

70

Capuccino
€3.

70

Tea
€2.

70
Hot Whisky
€6.

90

Bailey's Coffee
€7.

90

Irish Coffee
€7.

90
BBQ Chicken Wings small
€9.

00

BBQ Chicken Wings large
€13.

00

Homemade Sausage with mustard and horseradish, served with bread
€9.

00

Brie cheese with Cranberry sauce and walnuts
€9.

00
Cabbage soup with homemade sausage and smoked meat
€7.

50

Vegetarian soup of the day
€4.

90
Club sandwich (chicken breast, bacon, salad, tomato,fried egg & side of chips)
€14.

00
Caesar Salad
€11.

00

Chicken Caesar Salad
€14.

50
Pilsner Goulash with homemade dumplings
€18.

00

Beef in veg cream sauce with homemade dumplings
€18.

00

Chicken schnitzel (comes with one side of your choice)
€15.

00

Pork schnitzel (comes with one side of your choice)
€15.

00

Deep fried cheese with tartar sauce & one side of your choice
€15.

00

Sheep cheese dumplings
€17.

00

Fish & Chips (Fresh fried Cod with chips, homemade tartar sauce & peapuree)
€18.

00

Bangers & Mash
€17.

00

Pork Hock (needs to be preordered)
€19.

90
Beef burger (comes with one extra side of your choice)
€17.

00

Chicken burger (comes with one extra side of your choice)
€15.

00
Marlenka cake with freshly whipped cream
€8.

00

Apple Strudel with vanilla ice cream and freshly whipped cream
€8.

00

Scoop of Ice Cream
€2.

50
Chips
€4.

00

Mashed Potatoes
€4.

00

Potato Salad
€4.

50

Side Salad
€4.

00

Dumplings
€4.

00

Bread
€2.

50

Extra Sauce
€1.

50

Extra Cheese or Bacon
€1.

50

Peanuts
€2.

00

Pringles
€2.

50

Slovakia Chips
€3.

50

Breadsticks
€3.

50
Chicken strips with chips or mash
€8.

00

Fish & Chips (optional mash)
€9.

00

Beef Burger with Chips
€8.

50
Pilsner Urquell
0.5
€7.

00

0.3
€3.

90

Staropramen
0.5
€6.

60

0.3
€3.

90

Guinness
pint
€5.

90

glass
€3.

50

Smithwicks Red
pint
€6.

00

glass
€3.

50

Hop House 13
pint
€6.

50

glass
€3.

90

Rockshore lager
pint
€6.

50

glass
€3.

90

Rockshore cider
pint
€6.

50

glass
€3.

90

Budweiser
pint
€6.

50

glass
€3.

90

Peroni
pint
€7.

00

glass
€3.

90

Bulmers
pint
€6.

50

glass
€3.

90

San Miguel
pint
€6.

60

glass
€3.

90

Chieftain IPA
pint
€7.

50

glass
€4.

40
Heineken
€ 5.

20

Budweiser
€ 5.

00

Coors Light
€ 5.

00

Radler
€ 5.

00

Corona
€ 5.

50

Blue Moon
€ 5.

50

Budvar original
€ 6.

60

Kozel dark
€ 6.

00

Erdinger
€ 7.

00

Franziskaner
€ 6.

50

Tyskie
€ 6.

50

Desperados
€ 6.

00

Brewdog Punk IPA
€ 6.

00

Crabbies Ginger
€ 6.

50

O'Hara's IPA
€ 8.

00

Galway Hooker IPA
€ 7.

00

Lagunitas IPA
€ 6.

50

Fentimans Ginger Beer
€ 6.

30

Moretti
€ 5.

20

Smithwick's Green
€ 6.

50

WKD Blue
€ 5.

50

Smirnoff Ice
€ 5.

50
Brewdog Punk
€ 6.

00

O'Hara's
€ 8.

00

Galway Hooker
€ 7.

00

Lagunitas
€ 6.

50
N/A Heineken 0.0%
€ 4.

40

N/A Erdinger 0.0%
€ 4.

90
Bulmers pint
€ 7.

20

Kopparberg SL
€ 7.

30

Kopparberg MF
€ 7.

30

Orchard Thieves long neck
€ 5.

50
Jameson
€ 5.

50

Paddy
€ 5.

50

Powers
€ 5.

50

Bushmills
€ 5.

50

Tullamore Dew
€ 5.

50

Jameson Crested
€ 5.

80

Jameson Black Barrel
€ 8.

00

Jameson Distillers
€ 8.

90

Jameson Blenders
€ 8.

90

Jameson Coopers
€ 8.

90

Jameson 12y
€ 99.

90

Bushmills 10y
€ 7.

50

Bushmills 21y
€ 16.

50

Blask Bush
€ 5.

80

Teeling Small Batch
€ 6.

50

Proper Twelve
€ 6.

60

Red Spot 15y
€ 19.

00

Green Spot 6y
€ 9.

00

Yellow Spot 12y
€ 12.

00

Red Breast 12y
€ 10.

00

Red Breast 15y
€ 14.

00

Middleton Very Rare
€ 19.

90
Ballantines
€ 5.

50

Johnnie Walker Red
€ 6.

00

Johnnie Walker Black
€ 7.

50

Glenfiddich 12y
€ 7.

70
Jack Daniels
€ 5.

50

Jack Daniels Honey
€ 5.

50

Jack Daniels Single Barrel
€ 9.

50

Jim Beam
€ 5.

50
Cpt. Morgan
€ 5.

50

Bacardi
€ 5.

50

Malibu
€ 5.

50

Havana 3y
€ 5.

30

Mount Gay
€ 5.

90

Havana Especial
€ 7.

20

Angostura Silver
€ 5.

50

Kraken
€ 7.

20

Diplomatico
€ 8.

80
Smirnoff
€ 5.

50

Absolut
€ 5.

50

Ketel One
€ 6.

50

Grey Goose
€ 8.

80

Tito's
€ 6.

50

Dingle
€ 6.

50

Soplica
€ 5.

00
Gordon's
€ 5.

50

Beefeater
€ 5.

50

Kopparberg Pink
€ 5.

80

Bombay Sapphire
€ 5.

50

Tanqueray
€ 5.

50

Dingle
€ 6.

30

Hendrick's
€ 6.

90

Gunpowder
€ 7.

00

Brooklyn
€ 7.

30

Monkey 47
€ 9.

00
Pachuca Silver
€ 5.

00

Pachuca Gold
€ 5.

00

Olmeca Blanco
€ 5.

50

Olmeca Reposado
€ 5.

50

Patron Anejo
€ 8.

50

Patron Café
€ 7.

50
Becherovka
€ 5.

50

Borovicka
€ 5.

50

Fernet Original
€ 5.

50

Fernet Citrus
€ 5.

50

Tatra Tea 42%
€ 6.

00

Tatra Tea 52%
€ 6.

50

Tatra Tea 62%
€ 7.

50

Slivovica 52%
€ 6.

20

Hruskovica 52%
€ 6.

20
Jagermeister
€ 5.

50

Fireball
€ 5.

20

Baileys
€ 5.

00

Kahlua
€ 5.

50

Soplica
€ 5.

50

Sambuca
€ 5.

50

Peach Schnapps
€ 5.

00

Peppermint Green
€ 5.

20

Southern Comfort
€ 5.

20
Lorosco Reserva Sauvignon Blanc
This is a white with attitude! From Central Valley in Chile, clean, crisp and fresh, all-backed up with great structure and flavour.
glass
€6.

30

bottle
€23.

00

Statue Pinot Grigio
Award-winning Pinot Grigio made from top quality grapes grown in vineyards in Sicily, Italy. This Pinot Grigio has a delicate and fruity bouquet. Refreshing lemon flavour and hints of green apples on the finish.
glass
€6.

50

bottle
€23.

00

The Paddocks Chardonnay
Originating from South East Australia, a perfect balanced wine, with aromas of tropical fruit, particularly melon and peach, with a rounded, juicy and lingering finish on unoaked style of chardonnay.
glass
€6.

50

bottle
€23.

00

Hunters Stoneburn Sauvignon Blanc bottle
€33.

00

From New Zealand's famous Marlborough region, this is a cracking, crisp dry white packed with gooseberry fruit aromas and passion fruit flavours.
Malbec bottle
€29.

00
Lorosco Reserva Cabernet Sauvignon
A gorgeous full-bodied Red from the sunny vineyards of Chile, Lorosco Reserva Cabernet Sauvignon has intense fresh fruity aromas of blackberries and plums, with soft toasty notes and sweet vanilla.
glass
€6.

30

bottle
€23.

00

La Serre Merlot Languedoc-Roussillon
There is nothing shy about this wine, so prepare for flavours - big ones at that! This French Merlot is Young, juicy and full of soft easy-going plum and blackberry fruit.
glass
€6.

50

bottle
€23.

00

The Paddocks Shiraz
A super-ripe Shiraz from South East Australia, packed with sunny flavours of ripe blackcurrants sweet plum fruit.
glass
€6.

50

bottle
€23.

00

Paula Malbec Mendoza
Made from Argentina's most famous grape and by the country's most famous producer of Malbec, Dona Paula - This is a wonderful, heady mix of dark bramble fruits, plum and blueberry.
bottle
€26.

00

Ramon Bilbao Rioja Spain
This Rioja wine has received good scores from various critics, Bright, deep, cherry-red. Intense aromas, intensely flavoured with Tempranillo blackberry fruity character enriched by the oak barrels' vanilla spice and supported by firm tannins.
bottle
€33.

00
Rose
glass
€ 6.

50

bottle
€ 24.

00
Prosecco Snipe
€ 8.

50

Prosecco bottle
€ 29.

00
Sex on the beach
€11.

90

Cuba Libre
€ 10.

90

Long Island iced tea
€ 14.

50

Aperol Spritz
€ 11.

50

Blue Lagoon
€ 12.

90

Black Russian
€ 9.

90

White Russian
€ 9.

90

Tequila Sunrise
€ 10.

90

Espresso Martini
€ 13.

90

Hugo
€ 11.

50
Coke
€ 3.

00

Diet Coke
€ 3.

00

Coke Zero
€ 3.

00

7UP
€ 3.

00

Fanta
€ 3.

00

Fanta Lemon
€ 3.

00

Still Water
€ 3.

00

Sparkling Water
€ 3.

00

Kofola 0.3l
€ 2.

80

Kofola 0.5l
€ 3.

60

Vinea 0.3l
€ 2.

80

Vinea 0.5l
€ 3.

60

Tonic
€ 2.

00

Tonic slimline
€ 2.

00

Soda Water
€ 2.

00

Ginger Ale
€ 2.

00

White Lemonade
€ 2.

00

Juice Orange
€ 3.

00

Juice Apple
€ 3.

00

Red Bull
€ 3.

90

Red Bull SF
€ 3.

90

Acqua Panna large
€ 4.

90
Espresso
€ 2.

20

Double Espresso
€ 3.

50

Americano
€ 2.

90

Latte
€ 3.

70

Capuccino
€ 3.

70

Tea
€ 2.

70
Hot Whisky
€ 6.

90

Bailey's Coffee
€ 7.

90

Irish Coffee
€ 7.

90
About Us
We know the importance of enjoying a pint in good company and the right surroundings which is what we have created here. If you are looking for the perfect place to catch up with your friends over a pint or two, then Plisner Pub has a table for you.
The History
Tradition of beer brewing: Czech Republic is well know for long tradition of beer brewing and some of the best world beers. Czech made beer is also guarantee for quality of brewing and ingredients for many.
Much has changed since the monks in Brevnov Abbey established the first brewery in 993. Over the time, the love of the brew led Czechs to development of breweries in in every town, each one producing unique brews, with it's own character and taste. We are proud to present you with beers from craft Czech brewers, which blend excellent taste, tradition, quality ingredients and history of brewing.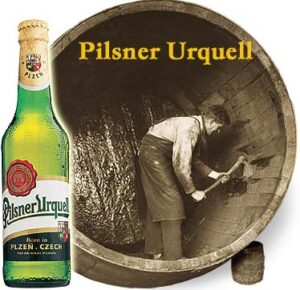 Our Aim: In Pilsner Pub, we believe that you deserve a true Czech dining and bar experience. Every dish on our menu is made using the traditional Czech recipes. Our meat and vegetables are sourced locally to ensure you get the best tasting meals you want and we feel you deserve. You can accompany your meal with an extensive selection of Czech craft beers, wines or a wide choice of unique spirits and cocktails you can only find in our bar.
We are open daily for lunch and dinner. We understand the importance of satisfying our customers but we also appreciate the need to be entertained. So whether it's sitting down to watch one of the many sports covered by the multitude of sports channels we have in the bar, playing darts or listening to music, we have something for everyone in Pilsner Pub. Why not come in and see for yourselves? We would love to have you! Thinking of a venue for a party? Then why not choose Pilsner Pub? We can cater for your every need providing custom made food as well as our fantastic selection of drinks to suit everyone's taste. Call in or book a table online!
Your Corporate Event, Family Dining, Birthday Parties or evenings for two. We care for all your needs. Choose from a vast selection of Gift Vouchers in nominations that will suit your needs. Do not hesitate to contact our staff or call us to get your voucher. All vouchers are valid for a period of one year from the date of purchase.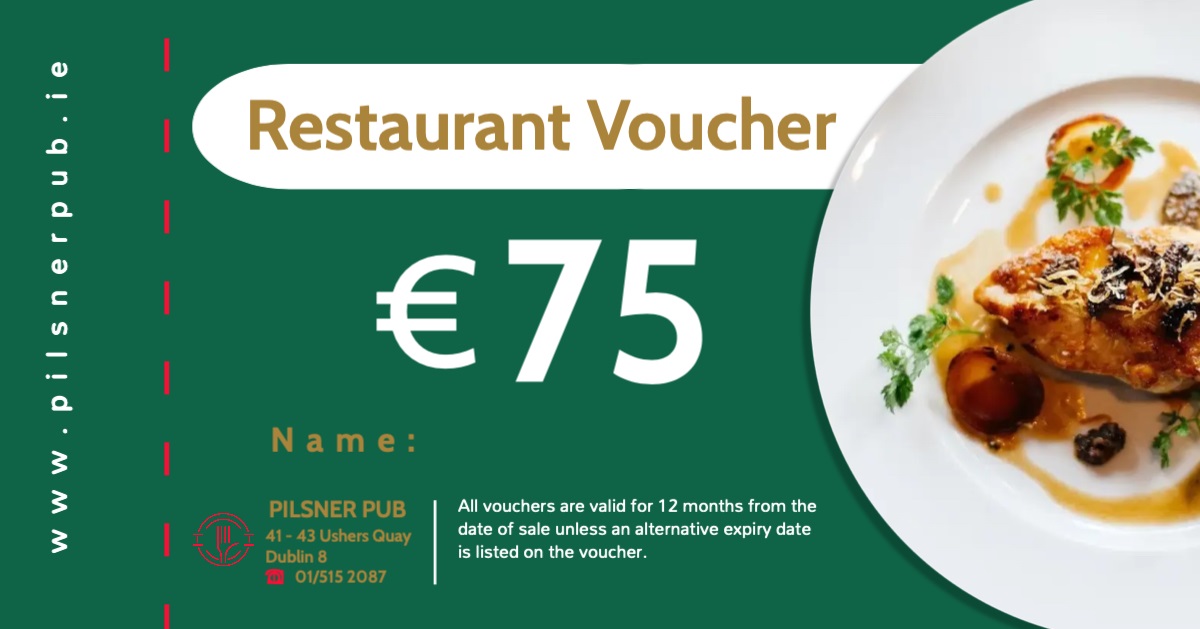 Make a Reservation
+353 (0)1 515 2087
or
Book your Table Online